With over 28-million people in the UK now vaccinated, you may think that there is a light at the end of the tunnel. And there is. But only if we all keep adhering to the guidelines and ensuring we are all taking the necessary actions to keep people protected.
I previously reported back on the 18th February that cases were following a similar pattern to that in the first lockdown but a month on and data now suggests that we  we haven't just turned the corner, but we've started jogging down the road to Covid-recovery.
According to NHS England, cases dropped by roughly 93% from From the 28th January to the 18th March, sliding from over 8,000 per week to just 595.
The decline in Covid-related deaths is a huge success for the country. The national lockdown may have accounted for a large percentage of it but the main reason appears to be the vaccination rollout. As seen in the graph above, as vaccinations have increased the death rate has decreased.
This clear correlation will be a sigh of relief for many people who have endured one of the toughest years in history.
There are many other reasons to be buoyant: including the fact that the record for Coronavirus vaccines given out in a day has been now been broken three days in a row and this week the UK recorded the lowest total of COVID-19 related deaths in one day since September, with just 17 deaths recorded.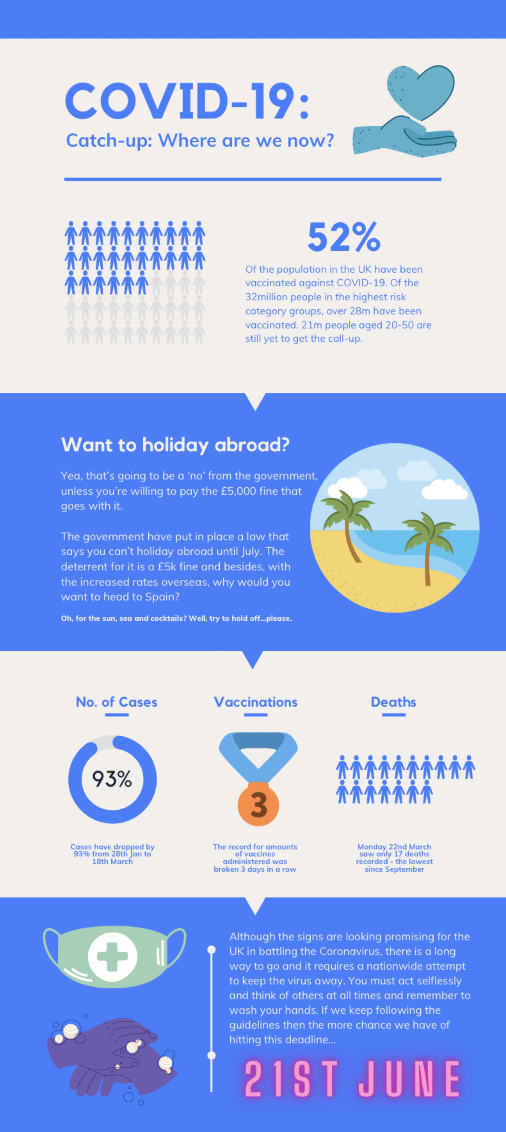 There are still reasons to be wary: particularly as cases increase across Europe intensifying the likelihood of a third surge. In the UK though, we have administered more vaccines than any other European country and with a strict £5,000 fine for anyone that holidays abroad before July to be issued with the UK Government, it's unlikely that anyone will be travelling out of the country whilst this threat remains.
Amid worries about vaccine shortages, it's important to remember that almost all of our most vulnerable categories have now had at least their first vaccination.