This week, another bar has announced its closure. The cocktail bar and restaurant The Brig have decided to shut their door in both Truro and Falmouth.
The owners posted across social media that this weekend (Friday 29th) will be it's last, as they have decided it was time to open for the last time.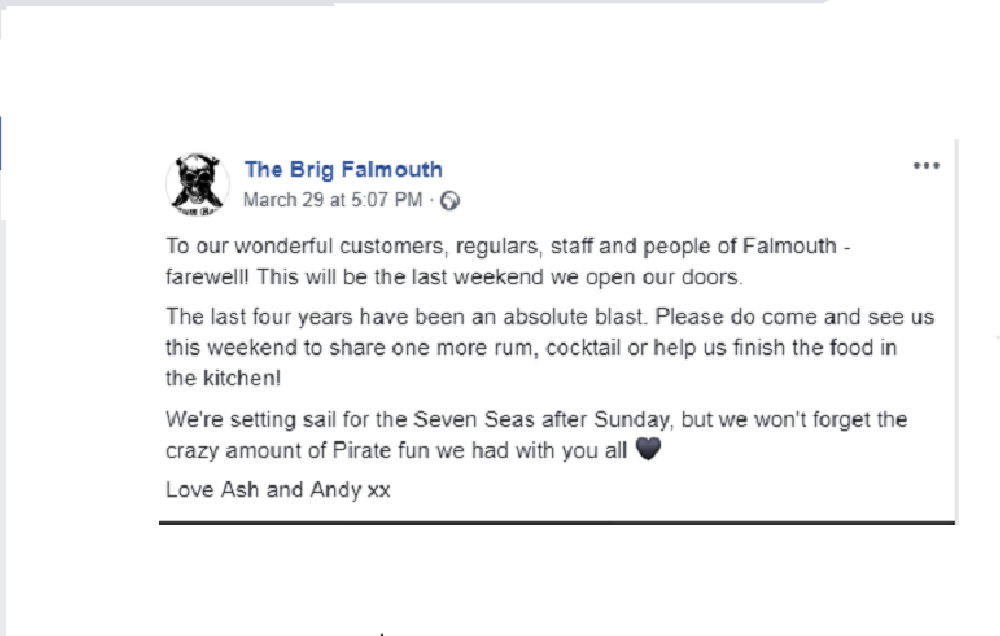 "It's onwards and upwards to the next adventure after Sunday, but please do come and share a rum, cocktail or a cheeky chicken wing with us before we go!
"We love you all, keep Rumming! Ash and Andy xx"
The store in Truro has been put up for lease on Rightmove for £59,000. The Falmouth shop is not up for lease.
Here is what some of their regulars thought of the news;
Niall Campbell said, "It was something about not having windows that gave this comfy and secluded atmosphere that made it so special".
Joanne Cramp wrote, "The service was friendly, the cocktails were out of this world, and it will be sadly missed".
Sharon Haynes stated, "We'd go for every birthday or celebration, money permitted, it was a great place to go, it is a real shame".
Regulars have stated their 'shock' and 'frustration' since the announcement of the bar's closure,  and have repeated that it will be sadly missed.
So what could these sudden closures mean for the food and drink industry?
Here is a short audio clip of what some Falmouth locals thought;
https://www.youtube.com/watch?v=uLlT6CYGDVA
Many locals have spread their shock and sadness of the closure but wish the best for both Ash and Andy as they sail for a new adventure.
With several closures of restaurants across Truro could the food and drink industry be slowly dying?
We spoke to Falmouth locals to find out their thoughts.
There were unanimous responses that the food industry is not thought to be dying.
One source stated that 'no I do not think the food industry is dying, it only offers more opportunity to others to start a small business of their own'.