Climate change opinion is the aggregate of public opinion recently within the youth population. The rising concern for climate change has grown immensely, but how many times do we have to campaign about our concerns before the council take action?
Concerns of climate change are continuing to rise to new records, following a year marked by devastating storms, wildfires and increasing dire warnings from scientists. According to The Guardian a total of 72% of polls now say climate change and global warming is personally important to them.
Following this surge of various weather warnings and concerns for future generations has spiralled minors into a fiery frenzy. Students and school pupils are protesting today for a wide national cause that has been surrounded with concern for decades. But will we finally get results?
This is the first demonstrational protest in the UK, which has been inspired by similar actions across the globe including Australia, Switzerland, Sweden and Germany.
Students are fighting for their growing concerns in climate change no matter the cost. Spreading their catchphrase of 'planet over profit', youths want to show the government what they believe in and aim to make their desired change to make the world a better place for the future. According to BBC report students are not concerned about missing a few lessons or a day at school if it means increasing their chances of living in a better and cleaner environment.
But is it too late?
After decades of deterioration in climate change, there has been many missed opportunities to demonstrate a fight and concern for the future of our environment.
"…we have missed crucial opportunities"
From Cornwall Live, National Organiser and a member of the UK Student Climate Network, Anna Taylor says "Over the last few decades, we have let time go by and we have missed crucial opportunities".
'March now or Swim later' is a message that is being voiced throughout the streets today across Devon and Cornwall. Students and school pupils are emphasising their concern for our future if we don't take action now.
According to Cornwall council, they have become a signatory of the Nottingham Declaration on climate change. As a result of this it means that the council will be developing plans and strategies within the next two years with their partners and local communities to progressively address the causes and impacts of climate change. Cornwall council state that 'Tackling climate change is an integral part of the Council's wider work to promote sustainable development'. Will they finally come through with results they have promised or will it just be like another Brexit deal?
The amount of climate denials and resources transported across the world has only made climate change worse. For instance why are we sourcing our coal from China if we have our own mines that we can source from ourselves?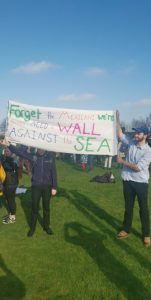 The government are consistently placing blame on anything they can in order to postpone taking action, from resources to funding. They have been doing it for years, so what makes us think that they will listen to us now?  Will our young generation finally get through to the council?
We say we want to make a difference, yet according to psychology reports, people are still not motivated enough to take action. The extreme experiences people have faced, yet are ignored based on lack of funding by the government.
Climate levels are constantly changing, what makes us think we can make a difference now?