By Remi Brand
'The Kings' public house on Church Street, Falmouth has recently been granted an extended closing time by Cornwall County Council. The new closing time will be 3am, making 'The Kings' one of the very few establishments in the area who will close their doors after 2:30 am.
(The Kings, Church Street)
Speaking to Matthew Thomsett, the General Manager of 'The Kings,' he said:
"One of the things we've found is that when we close you get a mass exodus of people going down the street to other establishments such as Club I and Mangos. The problem with that is however many people are leaving here – one night it could be ten, but the next could fifty people; possibly even more – all of the sudden the door staff at Mangos, the same company who manage our door staff, get hit very hard, so we're hoping that it should alleviate the pressure a little bit."
Mangos, another late night venue, is also located Church Street. Speaking to owner and manager of Mango's Geoff King, he said:
"We're open 7 days a week; we open at 10 am every morning and on our five club nights we go till 2:30pm (Monday)  or 3pm and then on the other two nights we're open we're open till 1am and midnight. Most of the nights town is extremely busy and obviously with more and more students coming to the university I think there's more than enough trade to go round. I think it would certainly help on nights to move numbers around the town."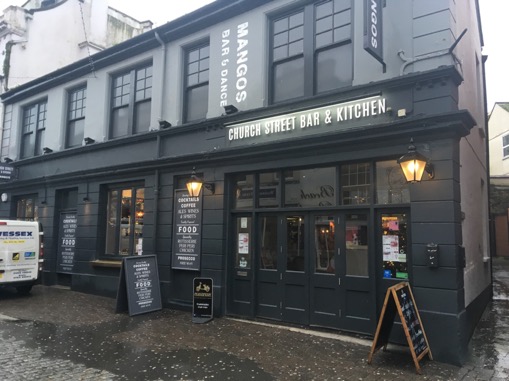 (Mangos, Church Street)
Speaking to Matthew Thomsett, he said:
"At the very fore front of everything we do is making sure the customers welfare is looked after. We're a late night venue but we're also a very family friendly place during the day; we do food,  we're very welcoming to families, we've got a dedicated children's menu, dog friendly; all that stuff. That's why it's so important to us what we conduct ourselves in the right way; you certainly don't want any negative comments [about later closing times] because there's the two sides to the business."
Despite this, conflict has surfaced after the announcement and despite not mentioning 'The Kings' by name, an anonymous letter that has been distributed to houses surrounding the Church Street area:
"Residents;
If you have had enough sleepless nights then email these people to end the Church Street mayhem caused by late night licenced premises.
They obviously don't care about you!"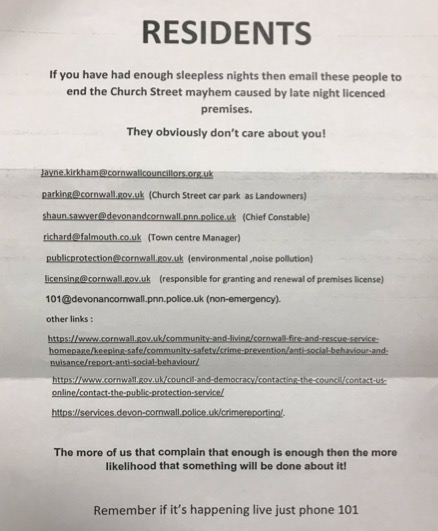 Speaking to Matthew Thomsett, he said:
"With regards to controlling people out on the street; we have no jurisdiction, it's a public highway. So all we can do is politely ask for people to have some consideration for our neighbours and most people do; most people don't know they're being noisy especially if they've had a drink, and not always the most compliant. I've had it myself where I've asked someone politely 'can you keep the noise down please, mate, we got neighbours to consider,' and I was told 'you can't tell me what to do out here,' I said 'you're right, but you're not coming back in,' it's really simple as that. One of the other things is there's very little police, which is very unfortunate; I'm sure the police would love to be doing their job, but that just isn't allowed to be the case. We can control what happens in the pub and outside our premises; but we don't have [legal] jurisdiction."
"We understand people's concerns about people smoking outside; that's why our door staff are instructed to request that everyone keeps the noise down while they're out there. If they carry on; they're simply not allowed back in. It's a rule and it applies to everyone. We do our best to limit any noise coming out of here and as for the building itself, it's had significant structural work and sound-proofing; at great cost."
Students and Local residents have had a long standing history of conflict; last year a group titled 'Falmouth Hates Students' produced an open letter stating how damage would be done to student property for as long as students have disregard for the local residents who's town they inhabit. Just last month a video surfaced on Facebook of a man (appearing under the influence) standing on top of a car on Church Street. Addressing this, Thomsett said:
"With regards to the [incidents surrounding anti-social nightlife] in the paper, there was that thing with the video of the [man jumping on] car outside, but that was the owner of the car! And the thing that really got me about that, in the paper, they clearly stated it was a student; but it wasn't."
He added:
"The licensees in town have regular meetings and we're all committed to providing a safe and enjoyable environment to enjoy and that's across the board; If anyone brings any complaints or concerns to our attention, they're dealt with immediately by me, personally. The universities growing all the time and [students] need somewhere to go; I don't think there's one licenced premises around here that isn't responsible at all. We absolutely do our utmost to keep everyone safe; what happens on the streets, unfortunately, is beyond our control."