By Remi Brand
Though modest in size and quaint in appearance, Falmouth arguably offers more dance music events, across a wider variety of genres, than any other area within a 60 mile radius; and a large majority are organised by the students.
While it's no Manchester or Bristol – both renowned for their incredible night life, distinct club culture and rave roots – this coastal town packs more in bass-filled vibes than it does first years into Glasney Village; almost solely down to the students taking things into their own hands. Truthfal's Remi Brand spoke to the co-founders of two of Falmouth's most prominent Bass music promotion companies to see why they decided to take matters into their own hands.
"[When I got here] the Bass music scene was dead. We had Mangos and Mono, both reasonable venues, but not quite my taste in terms of the music showcased," said Jake De Buriatt, co-founder of SBR; itself made up of several student-ran collectives: SOMGANG, Bando Sound and Red Van Records. "I was craving the scene that I'd been brought up with in Oxford. I fucking missed it and there really wasn't anything down here to fill the void, so in 2017 we formed SBR; we've done events in Fives (Below), Jacobs Ladder and various secret events at locations in Falmouth. Last month we organised, promoted and hosted the music for an event at Carnglaze Caverns, past Bodmin."
"After a couple of years filming events I met three local guys who wanted to do their own thing," said Alex Riley, co-founder of Sweatshop Audio, who are responsible for bringing Dubstep duo Kahn & Neek to Falmouth last month. "We knew that many of the promoters from the previous year had left and Mangos was closed so we decided to run a two floor Drum n Bass and Bassline night at Mono; there wasn't anything like that at the time. We built up a small following that got bigger as we moved on to nights at the Rugby Club and booking names like Sir Spyro and Dr Cryptic."
Both promotors hail from the Oxford and Bristol areas, respectively, and site their times spent at events their as influence on what they do now. "The Cellar [a venue in Oxford]  promoted some of the best underground music in the country. At the time, I didn't really realise it," said De Buriatt. "As soon as I got to uni in Falmouth I knew that I needed to put on my own event. The fire in my belly was burnin'."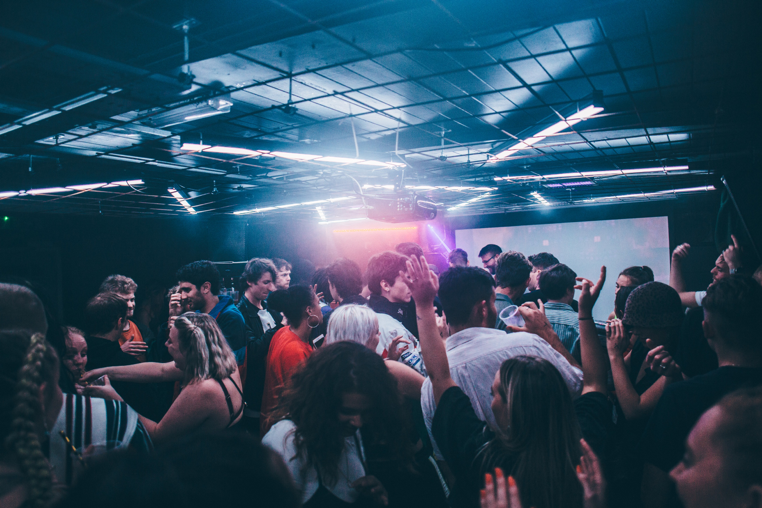 (SBR Presents: at Five Degree's Below)
"Bristol's underground is talked about a lot and the parties are hard to beat," said Riley. "There's some great sound systems and DJs, as well as a sick community of people, which always made me want to go to nights with those elements, so that's influenced our vibe."
Photography student and go-to photographer for many of the towns promotors, Joe Allison, said, "I've shot student and non-student organised events and there's almost always a harder vibe at student-led events. I think it's the specific genres played and the fact that most of the students have come from city areas so everyone brings their ideas of a good night to Falmouth."
Between these companies, attendees can expect a range of bass-heavy genres: for SBR, it's "primarily 140 and dubstep, and not the fucking Skrillex kind, before you get all judgmental on me. Proper UK flavours," and from Sweatshop Audio: "currently Drum and Bass, UK Garage and Grime. However, we're trying to give our DJs as much freedom as possible in sets."
So why are students taking the scene into their own hands?
"There simply isn't the provision of good music laid on by venues," said De Buriatt. "This is more prevalent after so many venues have closed such as Mono; Mangos has re-opened and they've got resident DJ's who play every week but it's still pretty generic."
"Probably because they're woke enough to know that it's their responsibility to create the nightlife," said Riley. "More importantly, if they want to keep the nightlife going they have to pitch in, whether its supporting nights by paying in or helping run it. I just hope they respect the local community and listen to their ideas as well."
Use to the more in-your-face nightlife of cities, Riley and De Buriatt both believe Falmouth to be a unique place for the Bass music scene to thrive. "Everything's pretty DIY round here, nothing is given to us on a plate," said De Buriatt, "we have huge amounts of creatively-driven, passionate people that are keen to show a diverse range of music, and attend to provide the vibe. Falmouth's filled with super proactive promoters and a really receptive audience."
"It's interesting how quickly it changes despite being such a small place which can be a good and a bad thing," said Riley. "Nothing is guaranteed in terms of success. In all honestly I don't think anyone thought we'd become established but we wanted to push the brand as far as it could go and we're still pushing," adding, "there's something about that set up of a sound system, DJs and bass music that can works from the smallest to the biggest raves and there's enough people here to make a scene worth noting."