Falmouth Eagles 57 Plymstock Oaks 6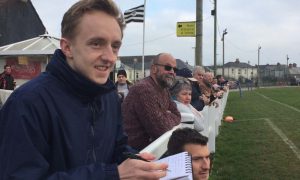 By Truthfal's Joseph Macey
Dan Hubble stole the show with five tries as Falmouth secured a bonus-point win over Plymstock Oaks and continued their excellent run of form.
Chairman James Instance was delighted with the team's display. He told Truthfal: "That was a good performance.
"You would say 57-6 is a fantastic win but we've been performing like that at home all season. For Dan Hubble to get five tries is brilliant. But there are areas we could improve."
The Eagles got an early try when a good carry by Justyn Irons opened space for Hubble and he darted in for his first try of the day.
After Plymstock's poor start they forced their way back into the match and were awarded a penalty which they kicked between the posts for three points.
The Eagles instantly went on the attack again and, after a nice passing move and great hands by Hubble, full back Seb Firth dived under the posts for a try. Irons added the conversion.
You would say 57-6 is a fantastic win but we've been performing like that at home all season.
Thomas Spillar then gave Falmouth another try with Irons again converting before Hubble added two tries in quick succession to extend Falmouth's lead before the break.
The first came from a strong run by Spillar which allowed Hubble to scramble over for the bonus point try.
The second came off the back of a poor line-out from Plymstock. Falmouth's quick passing was too much for the visitors and Hubble soared to the line for his third try.
Hubble started the half as he finished the first with a delightful step to evade his man and touch down yet again.
Falmouth then overturned possession and attacked through Hubble again. The ball was switched to Jonathan Baglow for a rare try.
TAMAR SARACENS NEXT
The game was wrapped up via a fifth and final try by Hubble, as he darted to the line to score after a superb pass by Thomas Edmonds. Irons converted.
Afterwards Baglow was delighted with his try and the team's display. "The last game we lost against them but we brought it back this time," he said.
"I don't score often but it was great to get amongst the tries. A great team performance."
The Eagles next match is away against Tamar Saracens on Saturday February 25. The team will be looking to carry on their unbeaten run. Kick-off is at 2:15 at The Parkway, PL5 2EY.
Instance said: "Tamar Saracens…have produced one win all season. You've got to be confident. However we have injury problems of our own but we have depth. I am confident we can get a result."