Spaceport Cornwall are hoping to launch their first rocket in the upcoming months, despite growing concern amongst locals about the environmental impact of the mission. 
The Spaceport have made clear decorations about their sustainability measures and claims to be "the first spaceport in the world to carry out a full carbon impact assessment prior to launch." 
So should we be concerned from a sustainability perspective?
We've put together a data infographic exploring the issue.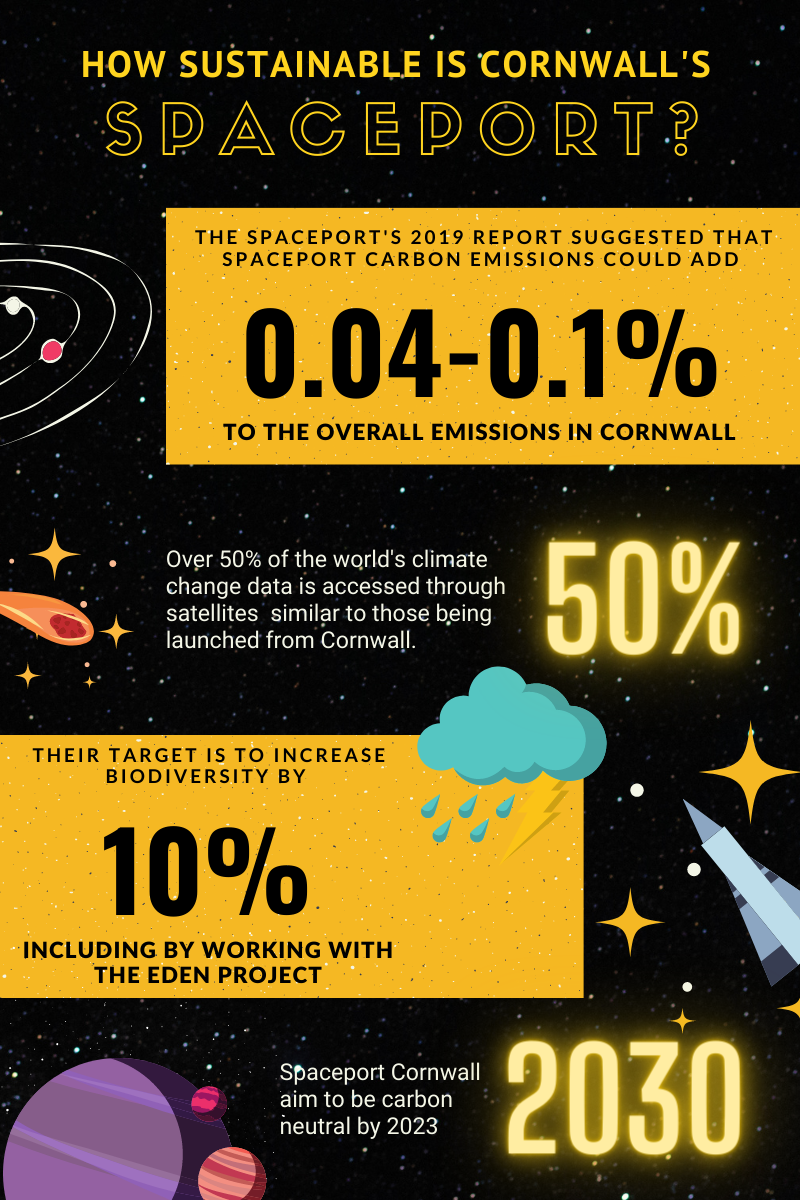 Firstly, as is clear from this data, Spaceport Cornwall could increase the overall carbon emissions produced by the Duchy.
These carbon emissions impact the environment in several negative ways, contributing to climate change and air pollution.   
However, Cornwall Spaceport aims to be carbon neutral by 2030, meaning they intend to balance the carbon dioxide they release into the atmosphere through everyday practices. 
In the short term, they plan to take measures such as purchasing UK Domestic Woodland Carbon Units.
Following this, they will launch Kernow Sat 1, an environmental satellite designed to monitor the oceans surrounding Cornwall and help pick out areas suitable for seagrass restoration.
As shown in the infographic, currently 50% of the world's climate data is accessed through satellites similar to this. 
David Pollard, Education and Outreach Manager of the operation, commented that he "truly believes that satellites are part of the solution rather than part of the problem."
The Spaceport will also be working with Cornwall based organisations such as the Eden Project, with plans of increasing biodiversity by 10%.
Is Cornwall Spaceport doing enough to stay green? Let us know what you think by tweeting us over @TruthFal.