In a recent survey conducted by Quotezone it has revealed that Cornwall is now considered to be ranked in the top 10 most dangerous places to drive in the UK.
If you asked a room full of people what they would say Cornwall is most famous for the popular answer would probably be its world-renowned beaches or delicious pasties, but how many raise their hand to shout dangerous driving?
Insurance experts analysed which regions are home to the safest drivers and which areas have the worst accident rates.
Car accident statistics were used to create a 'safe driver index score', grading eac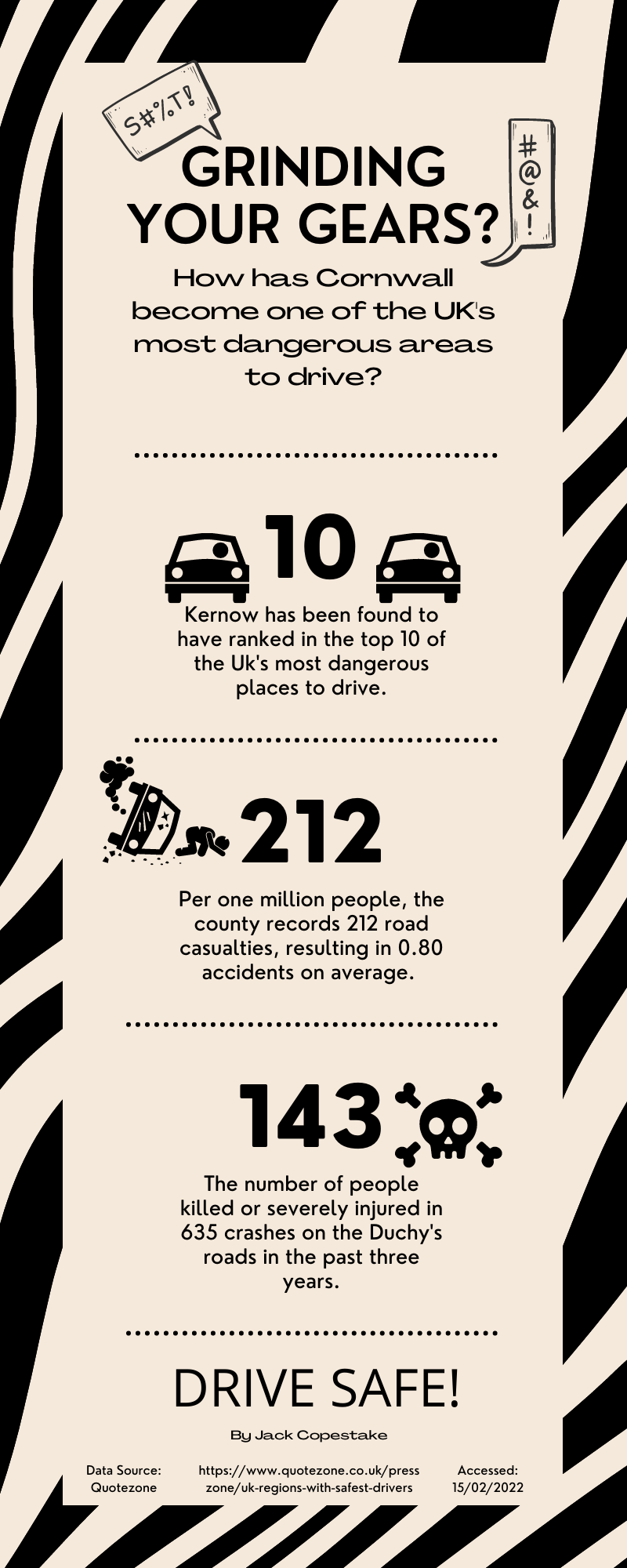 h region out of 100 in accordance to how careful their drivers are.
Ranked in the same bracket as the Isles of Scilly, Kernow received a safe driver score of 29.65 out of 100, the tenth lowest of all regions in the UK.
Recording 212 road casualties per one million people and 375 vehicles involved in accidents per hundred thousand vehicles, Cornwall was tied with Blackburn and Darwen for the second highest casualties on average.
This isn't the first time Kernow has made the headlines for it's less than desirable handling behind the wheel.
In December last year Devon and Cornwall police revealed that they had caught and compiled footage of 1,000 individuals performing dangerous manoeuvres in 2021, captured by members of the public from dash cams and helmet mounted cameras.
Does the data stack up?
Since learning of the damning outcome of the survey, it's raised the question as to whether driving in Cornwall should be approached with a measure of caution.
To determine how safe locals feel on the roads, Truthfal exclusively ran an independant survey to gather feedback from those using them.
Amassing 51 responses, in answering the first question over whether people were surprised over Cornwall being named on the UK's top 10 list for dangerous drivers the majority voted 'No' (60.8%).
In responding to the second question over whether people have 'experienced or witnessed reckless or bad driving,' the results appear more resounding, with 86.3% of responders voting for 'Yes'.
For the final question put to the public, Truthfal asked whether people feel 'unsafe or endangered out on the roads' with the lions share alarmingly voting 'Yes', as 58.8% feel their road safety is jeopardised by other drivers.
What do the results tell us?
Although it's difficult to reach a conclusive verdict on the matter, basing it off such a small sample size of participants, it's clear to see that most of the data that has been revealed by Quotezone in their report translates and aligns with how Cornish folk feel about the safety of driving on their roads.
If you feel endangered or you wish to report an act of bad driving, please seek to get in contact with your local police who will assist you appropriately.