With house prices soaring above the local average wage and a growing number of second homes and holiday lets taking up the market, many families and individuals are now facing homelessness as they can't find a place to live in Cornwall.
For the last 12 years Mike Osbourn (51) has lived in Cornwall and considers the county his home. Last year, Osbourn's landlord decided to sell the house he'd lived in for the last four years with his son.
"I was not concerned at all about finding a new house. As it was Covid, we had six months to find a new place to stay and the landlord was very understanding," said Osbourn, but he soon realised it would be harder than anticipated.
He says, "as soon as a house was posted online, it was removed. It was a constant feeling that you had to be online all the time. There was no guarantee we could rent, and it happened a few times where a tenancy agreement was accepted, but then someone else outbid us."
He explained the situation as "soul-destroying."
"You feel so powerless. We're one of the richest countries in the world, for this to even be possible is utterly despicable. It's inhumane. Nobody should be forced into this position or fear the prospect of homelessness."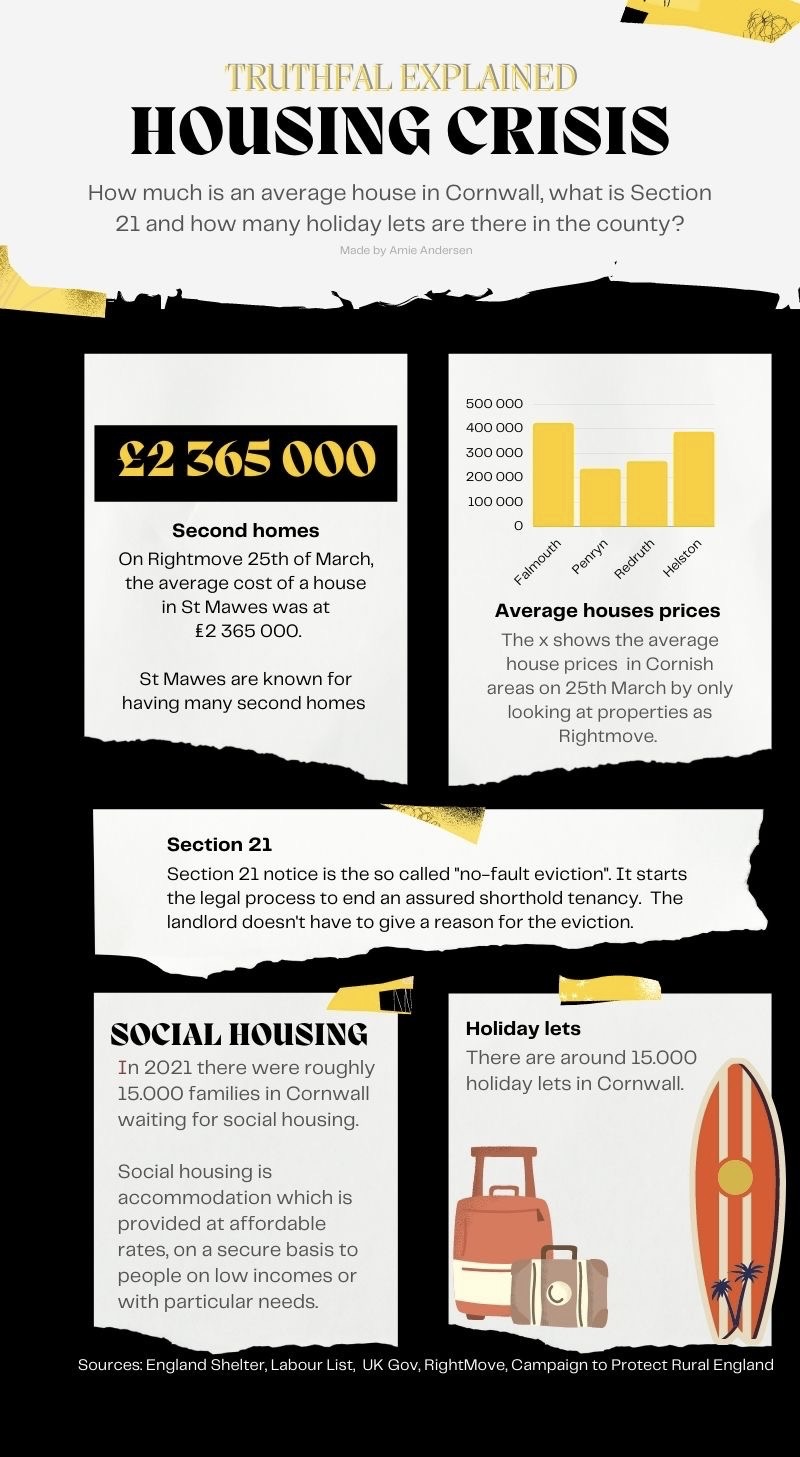 After finding a new place in Truro, Osbourn was served with a two month notice to move out only six months after he'd moved in.
"We don't know why."
As the landlord is not obligated to tell the tenants the reason for eviction under Section 21 notice, Osbourn didn't know why he had to find a new place to stay.
"In my opinion Section 21 should be banned for the security of the people living in those homes. I don't think landlords see them as homes, but as assets and income," said Osbourn.
ACORN Falmouth and Penryn are the union for the community and renters. They are currently running the campaign "Homes before holidays".
"Over the last few decades renting and home ownership has become increasingly unsustainable in Cornwall. High demand for second homes and holiday lets, exacerbated by the pandemic, has priced locals out of their communities and decimated towns and villages," wrote the union on their Instagram account.
"We want Falmouth Town Council to introduce special order of planning permission to provide much needed regulation of the ownership and construction of second homes, holiday lets and airbnbs."
Wednesday morning, Osbourn got a call back from a letting agent about a house.