Over the last few months, the infection and death rates from coronavirus have been decreasing, showing that the UK lockdown is doing its job in stopping the virus from spreading.   
Data from the 11th to the 17th March 2021 shows that 39,655 people had a positive test result for coronavirus, this was a decrease of 1.2% compared to data from the week before and an even higher decrease from a month before. In the 7-day period ending on 17 February 2021, there were over double the amount of coronavirus cases at 80,960 cases.   
Between 11th and 17th March 2021, there have been 844 new deaths from people who tested positive for coronavirus within 28 days of dying, showing a decrease of 29.9% from the previous 7 days. The data also shows that there has been an overall decrease of deaths, where Coronavirus is on the death certificate, each week since the beginning of the 2021 lockdown.  
Vaccines have been continuously spread out to the population across the UK beginning with those most vulnerable first. By the end of the 16th March over 25 million people in the UK had been given their first vaccine dose. The numbers for the second dose are also gradually increasing with over 1.7 million people in the UK given their second vaccine dose.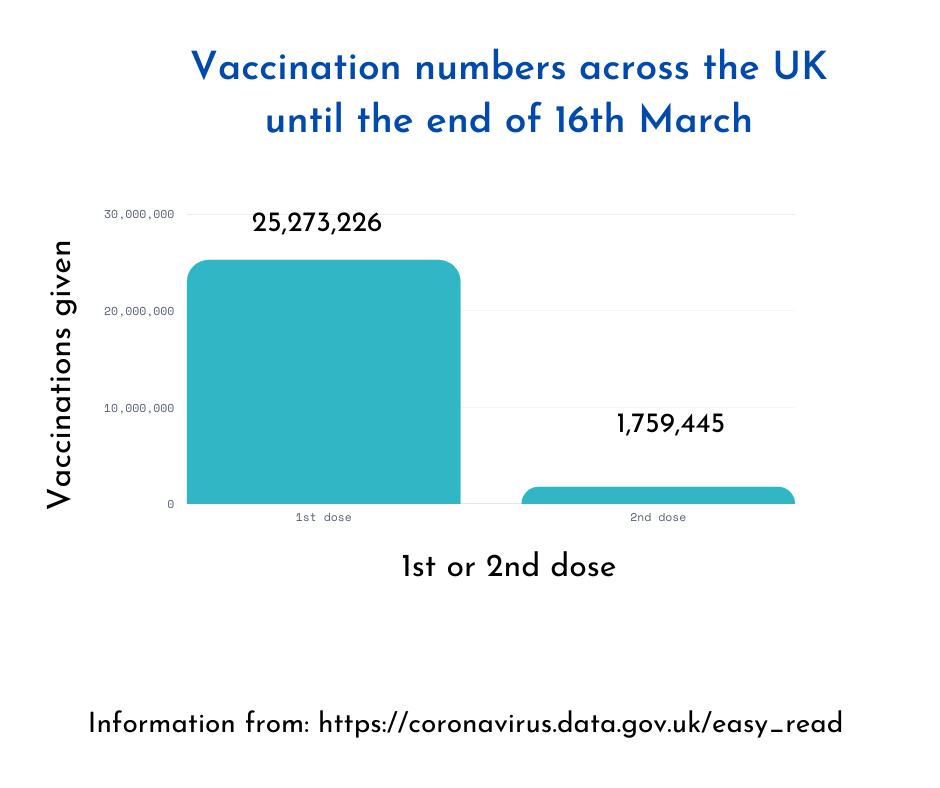 Cornwall and Isles of Scilly: 
The most recent data for Cornwall and the Isles of Scilly shows that between the 7th and 13th March there are 16 cases per 100,000 people.  
In the seven days leading up to 11 March 2021, there were 85 confirmed cases of Coronavirus in Cornwall, an increase of 13 since last week's weekly figures. The graph (below) also shows an increase in Confirmed cases when schools went back to face-to-face teaching on 8th March. The most recent data shows that the latest Coronavirus clusters in Cornwall are:  
Launceston: 9 cases 
Camborne West: 5 cases 
St Just and Land's End: 4 cases 
Helston: 3 cases 
Crowan, Wendron and Stithians: 3 cases 
Redruth South: 3 cases 
St Austell East and Carlyon Bay: 3 cases 
Dobwalls, Addington and Menheniot: 3 cases 
In Cornwall and the Isles of Scilly, the number of deaths with Covid-19 on the death certificate, up to 5th March 2021, has increased by 19 deaths. The overall number of deaths in the region is now 545.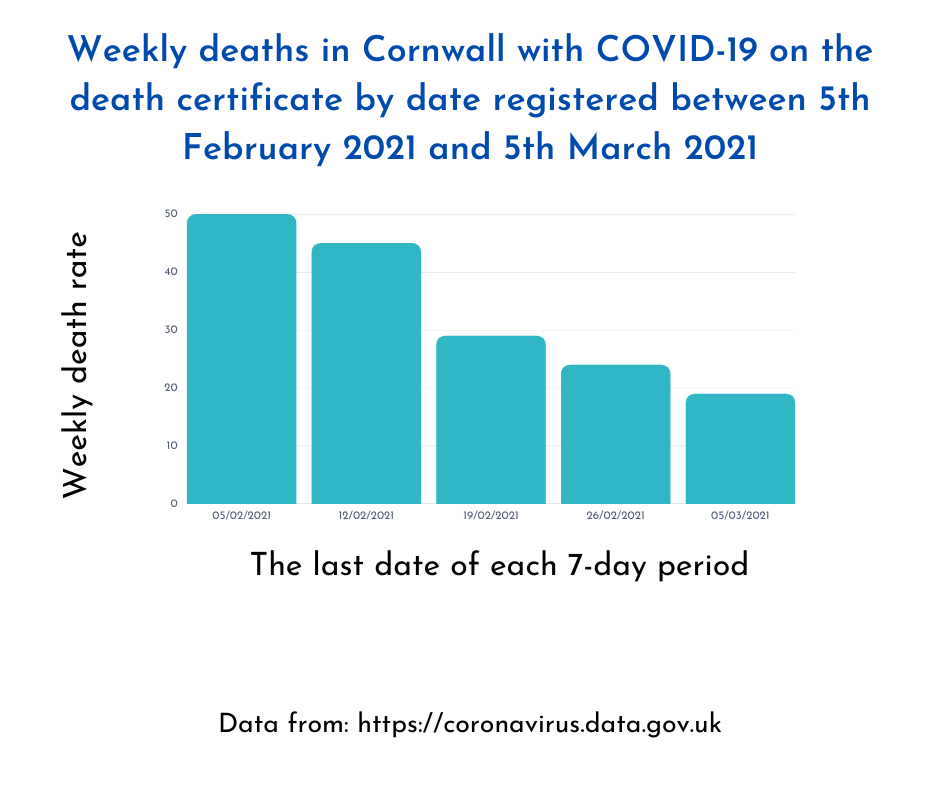 Data ending on the 24th February 2021 shows that there have been 194,672 first vaccine doses given to residents of Cornwall and The Isles of Scilly. This figure would have increased since this figure was released. The region is now also giving the first vaccination doses to people who are in their 50s, beginning with those over 55.