A student activist's words to the Chinese Communist Party:
You Can't Kill Us All. If We Burn, You Burn With Us.
Anson's willingness to accept a potentially bloody escalation and his belief that the movement will ultimately succeed shows that the months of clashes have created determined teams of protesters whose tactics are shifting as clashes become militarized. Anson declined to be quoted by his full name for fear of arrest in a city where merely participating in an unauthorized protest could mean years in prison. "You can't kill us all. If we burn, you burn with us." Said Anson, a 21-year-old frontline protester.
Hong Kong's protests started in June against proposals to allow extradition to mainland China. 2 million citizens, which is ⅓ of the population in Hong Kong, come out on street to protest. Protestors feared this could undermine the city's judicial independence and endanger dissidents. Until 1997, Hong Kong was a British colony, it was handed over to Chinese rule with a joint declaration which promised to maintain its people's rights and freedom and protect its autonomy. The arrangement is known as "one country, two systems". The joint declaration has since been declared by the Communist Party as outdated and invalid, breaking its promises as always.
The aim of the movement has since shifted from an extradition bill, to an anti-totalitarianism movement, the government gave no response, but suppression. The escalating demonstrations and the police brutality deployed in response have marooned the territory in a cycle of violence. while Mainland Chinese officials denounce protestors as "rioters" and "terrorist" who receive money from UK and America to separate and destroy their country in the name of democracy. Which are entirely false accusations. People are hurting and dying because of this horrific regime, and it's the government who refuses to listen to its people's voices, that led to the tense confrontation today.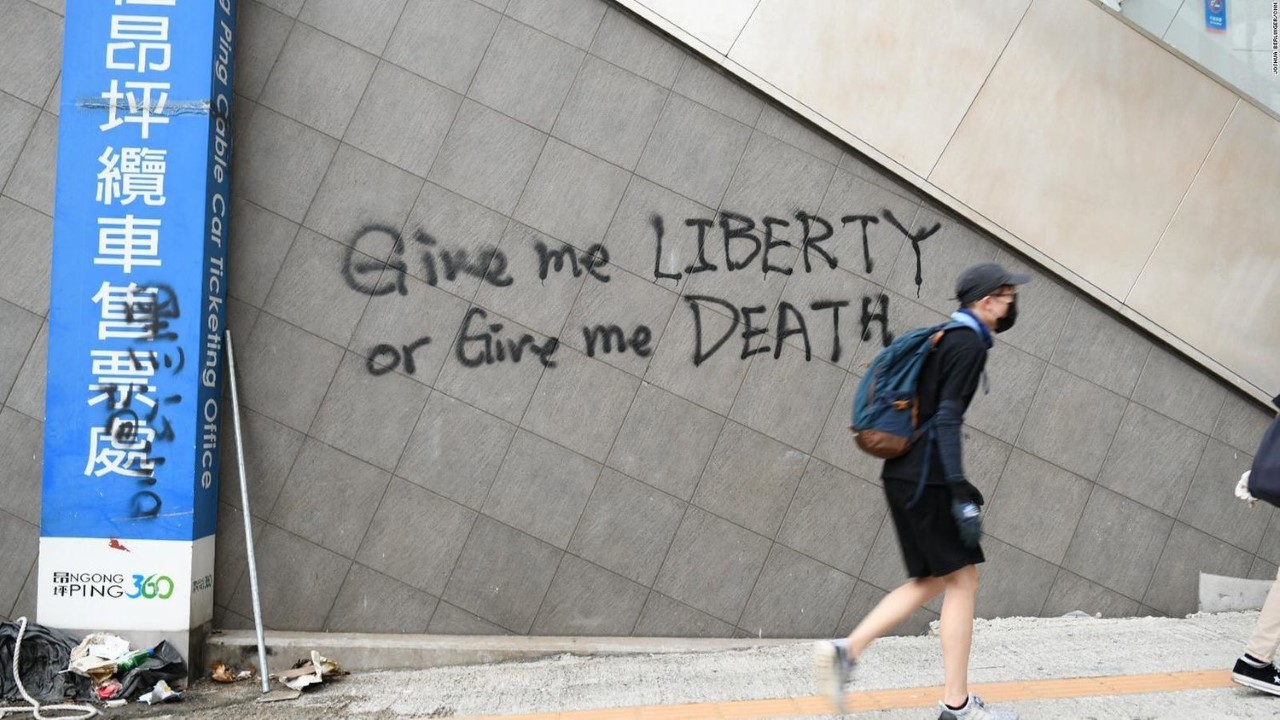 Since June, police have arrested over 9 thousand people, and fired 2,1000 rounds of teargas – not to mention beanbag rounds, sponge grenades, rubber bullets, chemical-laced blue-dye shot from water cannons and live ammunition, as China celebrates 70 years of communist rule.
Meanwhile, the police force was being used as a tool of authorities for stability maintenance. Rule of law has since been unseen, as police unleashed a dystopian parade of outlandish charges against citizens. These include an unarmed 19-year-old who was shot in the chest by police being charged with assaulting police, and being put under arrest while still in intensive care, a female protester was being charged and jailed for attacking police with her breasts.
The police force was being used as a tool of authorities for stability maintenance. On the ground, police tactics against protesters regularly violate the force's own guidelines, including intentionally targeting the press with teargas and rubber bullets, and flashing lights to prevent reporters filming officers insanely beating up protesters  after they have already kneeled and simply started stepping repeatedly on protestors head, intentionally driving oversized vehicle towards crowds of reporters and protestors trying to hurt them, insanely beating up protestors after they have already kneeled and simply started stepping repeatedly on protestors head. There have been other serious casualties, including three journalist blinded in one eye after being headshot by beanbag rounds, a cameraman being hit by water cannon on his head, led to serious brain congestion, lots of these happened during approved protests. More than 5,000 people have been treated at hospitals for injuries, that does not include protesters going to secret underground clinics without getting proper treatments, as they are afraid hospitals would expose their identity to the government.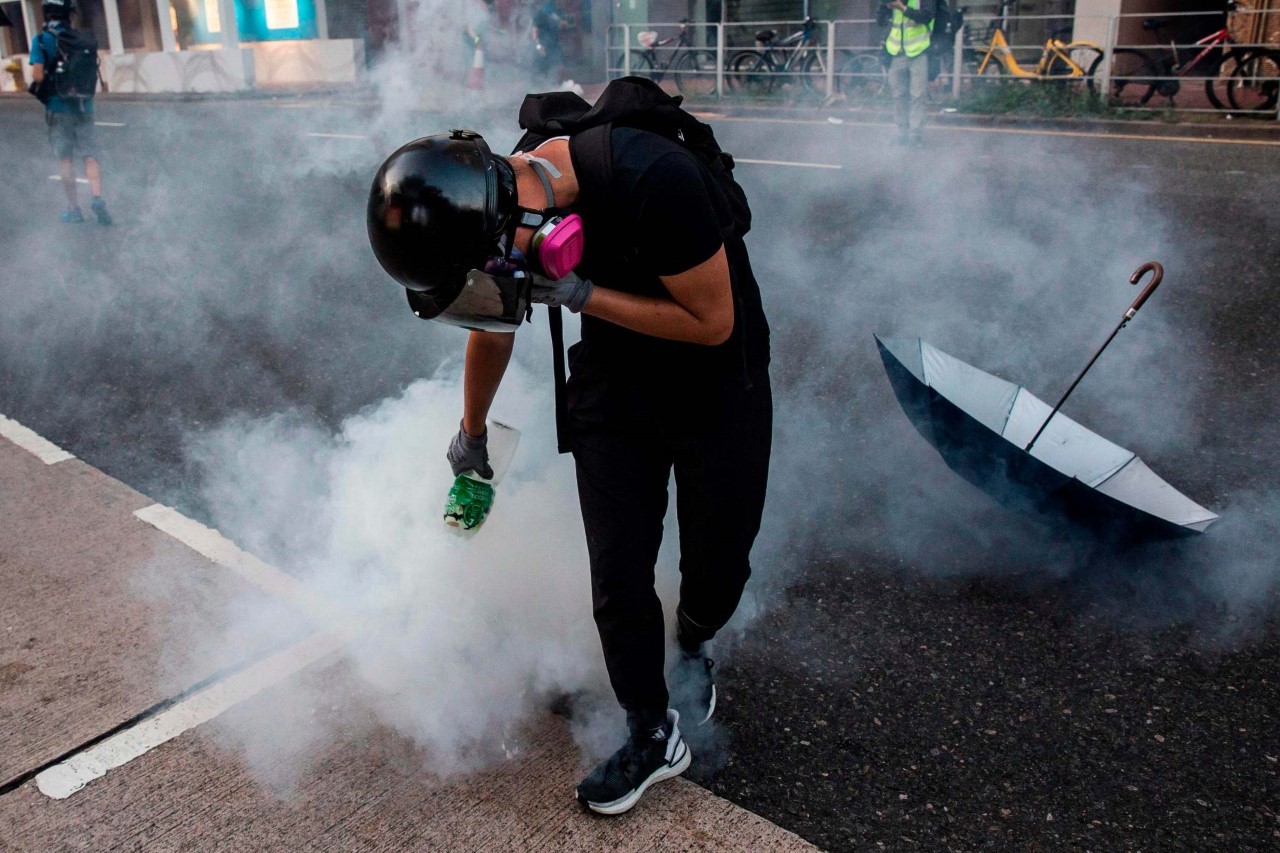 Police brutality has fueled public anger, feeding the protest movement, and as both sides became more entrenched their tactics have escalated.
This breakdown of law and order has been exemplified by an ongoing wave of attacks on pro- democracy figures by the Triads organized crime syndicates. Gangs of thugs accused of triad links have attacked demonstrators with knives and axes. These forces are seen as pro-Chinese and seen traces of underground collaboration with police force. Including protecting their identity with shields from reporter's cameras and not even one of them have been arrested. They are being referred to as selfless heroes in the media in China's state media.  Here is the Hong Kong Police Force oath:" I will execute the powers and duties of my office honestly, faithfully and diligently without fear of or favour to any person and with malice or ill-will toward none". However, they have violated every bit but "execute the powers", and not a single member of the police force is held accountable for their actions.
"There are bound to be deaths and injuries in every revolution. We want democracy and universal suffrage; we will not surrender before that is met. We're born into this era and if there is a crackdown, we would resist till the last moment." Said Anson.
Either way, China's "one country, two systems" scam is in tatters. The government of Hong Kong has blatantly mistreated its people, lost its legitimacy and people's trust. Revealing its true function as a puppet of the Communist Party of China.
Stand for Human Rights, Stand with Hong Kong.