Following reports of numerous big cat sightings in Cornwall in the past years, a Cornish village near Callington has had a recent scare following a dog being left bleeding from its injuries after an attack.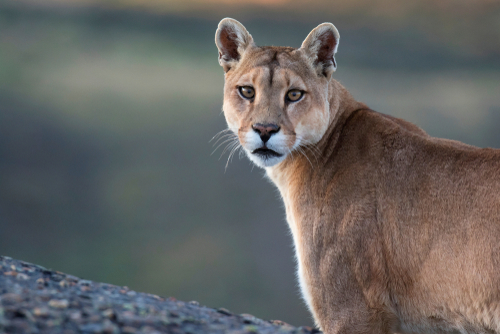 Both the Police and RSPCA attended the scene in Harrowbarrow where casts of paw prints almost five inches were taken by specialist forensic officers.
Concerns have been raised for young children in the area as the RSPCA confirms the casts are from a big cat, possibly a panther or puma.  The big cat is said to have been prowling the village where several pet cats have gone missing.
A local farmer also claims to have found what he believes to be its 'den' on his land although there have been no further reports to clarify this.
James Stephenson, 23, a resident of Harrowbarrow, whose Labrador was attacked by the cat in question, warned that people need to be aware. James said he was in the garden and with his dog  Marley and Collie pup Maisy when the cat attacked.
"We're not sure whether it's a puma or a panther but it's been confirmed that it's a big cat. We're under the impression that it's a puma. We went round to warn the neighbours to keep any dogs in and safe. They think it's a panther," James told Cornwall Live.
First spotted in 1983, the attack links to tales of the 'Beast of Bodmin Moor'. In 2011 it was revealed that there had been over 200 big cat sighting reported in Cornwall and Devon since 2000.
The alleged release of three puma's back in the 1970s by circus owner May Chipperfield, may give reason to the big cat sighting; It is said Plymouth Zoo was set to receive five pumas yet only received two.
It is uncertain if or how the other puma's escaped but it is thought that Chipperfield released her favourite pumas as opposed to surrendering them to the zoo.
Ms Chipperfield died in 2014. In an article with the Mirror her husband, Roger Cawley said: "We had no dealings with the old Dartmoor Wildlife Park and certainly never released pumas or any other wild animals on Dartmoor".