Just barely hidden from the hustle and bustle of Falmouth high street, a damaged figurehead sits on Upton Slip.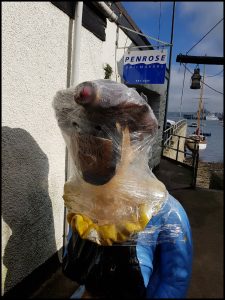 She wasn't always damaged. Just a short time ago in October she stood proud and tall, a monument to her time spent at sea. In fact, she had been standing there undamaged for over 50 years until she was vandalized at some point in early October. But where did she come from?
Ami's previous owners Roger and Juliet Hollingsworth told me that she hails from the RMS Amazon, an 1851 Royal Mail paddle steamer – reputedly the largest timber steamship ever built, costing £100,000 to make, just over £13,000,000 in today's money. Amazon set out from Southampton on her maiden voyage equipped with 112 crew, 51 passengers, 1,000 tons of coal for her bunkers, 500 bottles of mercury for use in the production of mining explosives in Mexico along with livestock and bales of hay to feed them.
Late on the 2nd of January, 1952, Amazon set sail for the Caribbean. After a 2-day voyage, she arrived in the Bay of Biscay, but all was not well. A crewmember noticed smoke coming out of a hatch near the ship's forward funnel. Captain William Symons was quick to react, ordering the crew onto the deck with buckets of water to attempt to quell the blaze, but it was too late. The hay had caught fire.
Amazon burned. Captain Symons and his crew attempted to keep her course steady as not to cause any further damage or crash into any of the lifeboats. At 5:00 AM, 5 and a half hours after the fire began, Amazon's ammunition storage caught alight and exploded. Her deck collapsed and 30 minutes later she sank, her final resting place about 100 miles south-west of the Isles of Scilly. 104 of the 163 people aboard the ship lost their lives.
2 months later, a section of Amazon's timbers –including Ami – drifted ashore at Falmouth.
Given her storied past, this latest damage must be nothing to Ami. But then, judging by her face before she was damaged, she most certainly wouldn't be happy to be treated this way. She always looked a little cantankerous and out of sorts.
It could be argued that she'll simply be repaired – and given time, she certainly will. Ami is the subject of many a tourists' photo and is a point of pride for nearby establishments like The Wheel House, located just next to the figurehead. But will this new and repaired figurehead be the same as the Ami we knew before?  She might end up looking the same, but a part of her will represent the next chapter in her chequered history.
Then again, this won't be the first time that Ami's been modified in some way. Once, she wore a blue frock and her face looked even more crotchety than it did in early October. Since then, she's worn green, red, yellow, and finally back to the blue she wears to this day.
Tina Rogers works at The Wheel House and is Ami's current owner. It's a very busy day today – nearly every table is full – but she still has a moment to talk.
"I've been painting Ami for about 20, maybe 30, years. I started painting her when I was 11."
"Yes, she was vandalized. Two lads came down and they were punching the side of her head in. I came down and felt her face because I could see that they had cracked all around it and it was loose and hanging off."
Thanks to vandalism such as this, she's had to lose her original wooden form in favour of a sturdier fibreglass one. Through all these different forms and colours, she's still retained her place as an important part of the town's history.
Harleigh Mitchell, a tourist visiting Falmouth, loves the sea. She stands on the quay behind Ami's home, gazing out over the waves.
"I'm very disappointed that she's been damaged. I visit Falmouth every year and it's become a bit of a tradition to get a picture with her. I think a lot of other tourists will feel the same."
Ami has been through a lot. Her latest damage doesn't even come close to the devastating fire on Amazon, her first home, on the 4th of January 1852. But despite this, she's still the very same figurehead who sat proudly at the prow of her boat in the 19th century. The damage will be repaired, and before long it may be impossible to tell that she ever sustained any harm in the first place.
The National Maritime Museum suggests that the purpose of a figurehead was to ensure absolute protection of a ship and her crew. Ami stuck with the crew of the doomed Amazon as she sank beneath the waves, and now she needs that same protection herself.