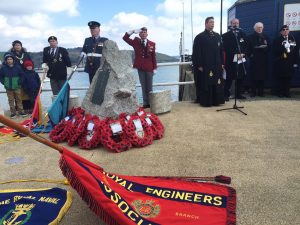 On a freezing Sunday morning, members of the Falmouth community braved the bitter weather to commemorate the 76th anniversary of what is often dubbed "the greatest raid of all".
Operation Chariot is one of Britain's most famous commando raids, as well as the first such operation. On the 28th of March 1942, the operation team sailed from Falmouth harbour to destroy the dry docks at the St Nazaire harbour in southern France.
A severe weather warning played havoc with the proceedings, as the band that would have led the original march to the service pulled out, and the parade that normally would follow the service was called off.
But this didn't dampen the spirits of the veterans who whistled and sang the Colonel Bogey March whilst stepping in formation under the banners of their old troops on their way to the service.
Around 100 people showed up to watch the service, which was held by Reverend Darren Middleton: the chaplain to 29 commando. Many laid wreaths including the Falmouth and Penryn Mayors, members of the St Nazaire society, representatives from Falmouth and Exeter Universities, as well as family members of some of the men involved in the raid.
Check back for an audio report from the parade later.
---