Truthfal's Morgan Lloyd explores the best of the best Cornish sporting women to celebrate International Women's Day.
On March 8th people all over world will be celebrating International Women's Day. This commemorates the movement for women's rights, and dates back to the early 1900's. For us here at Truthfal, we are celebrating the Cornish women who have made their mark on the world of sport, pushing girls and women all over the world to #pressforprogress.
Annie Vernon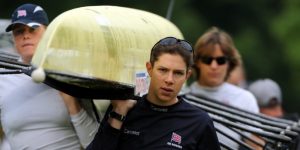 Cornish-bred Annie Vernon, is an Olympic Medallist. Scoring silver for Great Britain at the 2008 Beijing Olympics in the Women's Quadruple Sculls rowing event. Picking up the oars at the age of 17 at the Castle Dore Rowing Club in Golant, the opportunity to study at Cambridge University made sure this hobby became more than just that. She has had an impressive rowing career, going from one of the smaller, less experienced members of the  GB squad, to overtaking bigger and better athletes to become a world champion for the first time in 2007. Now retired as an athlete, Annie can look back on her rowing career with pride. Having balanced a degree at one of the country's most prestigious universities, with being a professional athlete, it is clear that hard work and dedication pays off. Annie is now a freelance journalist, having written columns for both the West Briton and the BBC, she continues to inspire younger generations.
Julie Kitchen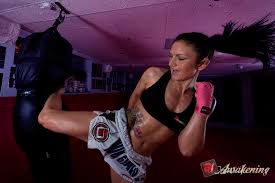 Truro born and Penzance raised, Julie Kitchen is widely considered the best pound for pound Muay Thai fighter of all time. Rightfully nicknamed the Queen of Muay Thai, Julie boasts an incredible fight record after winning 52 of her 61 professional fights, being named world champion 14 times throughout her Muay Thai career. What really sets her aside is the fact that Julie didn't even start kickboxing until the age of 24 when she joined her husband's gym, Touchgloves, in 2001 following the birth of her twin daughters. Originally intended as exercise, this gruelling hobby rapidly turned into something Julie was very passionate about, leading to the win of her professional debut in 2002.  10 years down the line Julie retired from fighting, but her legacy goes on in the form of her twin daughters, who are both now Muay Thai champions in their own right. She continues to inspire women across the world, travelling and giving seminars and delivering knowledge on the sport. Julie's official website states: "People say I'm a natural, I'm not a natural… I've worked really hard, had great training and overcome a lot."
Emma Stepto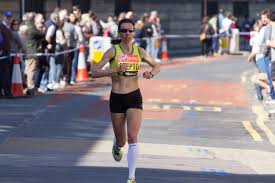 As one of the UK's top long-distance runners, Falmouth University's very own Emma Stepto stands out as a remarkable Cornish Athlete. While working at Falmouth, Emma still juggles full-time work with a daily training routine as well as a secretary role at Cornwall Athletics Club. After first competing in her 30's, Emma has since finished multiple races in first place. Most memorably, she competed in the Frankfurt Marathon in 2014, in which she secured an impressive marathon PB (Personal Best) of 2 hours 32 minutes. Still competing, the weekend just gone saw another victory for Emma, finishing first in the Westward League with Cornwall AC's senior ladies 'A' team which she captains. This was the 12th time the club took the title in the last 16 years. Speaking with Emma, she told us that "female participation has been going through the roof lately, when I joined the club we struggled to get 4 ladies out, now there is over 60 of us which is really encouraging." To any youngsters out there looking to take up long-distance running, Emma describes the best way: "Join an athletics club, get some advice and proper coaching, you can push yourself a lot    further than you think you can, but it has to be done in the right way, safe and healthy."
Tassy Swallow
At the Age of seven, St. Ives born Tassy Swallow picked up a surfboard for the first time. Her dream of surfing professionally was supported by family, friends and her college. It didn't take Tassy long to progress to an exceptionally high standard of surfing and she has since represented Great Britain on multiple occasions. Tassy has also competed in five World Junior Surfing Games at locations around the world, including Ecuador, New Zealand and Panama, winning every UK under-18s Pro Tour title between the ages of 15 and 18. After becoming a qualified surf coach in 2012, Tassy went on to set up Surf Ratz, a surf club for girls aged 6-16 based in her hometown of St Ives. In an interview for Surfgirl magazine Swallow expresses that the aim of this surf club is "to help girls achieve their full potential as strong, confident, resilient and independent young people". Astonishingly Tassy raised over £10,000 to renovate the Battery Barracks on the Island at St Ives as a base for Surf Ratz. In 2012, Tassy was also the second person to carry the Olympic flame during its relay around the UK, receiving it from Ben Ainslie at Land's End. The following year, at the age of 19, she was made a Bard of the Cornish Gorsedh, becoming the second youngest person ever to be given the honour. Nowadays Tassy continues to coach various age groups in St. Ives as well as still competing around the globe. In light of International women's Day, Tassy is hosting a "Ladies Surf Week" in Morocco, where all abilities are welcome.
Sara Cox 
Regularly seen refereeing the Cornish Pirates, Sara Cox was a once promising prospect for the world of female rugby. Unfortunately, her career as a player ended at the early age of 16 following an injury, preventing her from continuing in her under England under 20's trials. With a love for her sport, Sara couldn't give it up for good, and rather than becoming a coach she decided to pick up the whistle. Since then, Sara has taken the world of rugby by storm, being the first ever female referee to take on the male National League 1, the third-tier division in the UK. Another milestone for Cox was Rio 2016. The summer in Brazil saw her take charge of Rugby Sevens for the Olympics, boosting her reputation. The following year saw her take on the female Six Nations, and it looks to only be going up from here. "I want to push as high as I can possibly can," Cox told The Guardian last year. "What the roof is I don't know. Nobody has ever told me if there is a roof. You plough forward and see where you go."