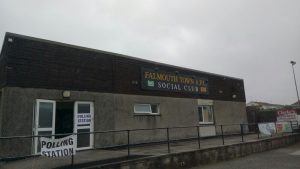 Voting is underway in the 2017 General Election across the 650 constituencies that make up the United Kingdom's Parliament.
The polling stations opened to voters at 0700 BST to allow the public to have their say in the snap General Election called by current Prime Minister Theresa May, back in April.
The previous General Election in 2015 saw 70% of those eligible to vote within the Truro and Falmouth constituency exercise their rights. Conservative candidate Sarah Newton won by a large margin, receiving 22,681 of the total votes, a 44% share of vote. This was followed by the Liberal Democrats, who took a 16.8% share.
Conservative candidate Sarah Newton is defending a majority of 10,000
Sarah Newton is once again the conservative candidate. Both the Liberal Democrats and Labour have new candidates in the form of Rob Nolan and Jayne Kirkham respectively.
With a lot having happened in the two years since the previous election, voters were out in their numbers braving the wet weather to make sure their say was counted in a General Election that could be considered one of the most important in recent years.
"Every party goes through rough and smooth, it's just one of those things"
Truthfal spoke to voters at Falmouth Town Football Club and Baptist Church this morning to get their views on the general election and the major issues that influenced their vote.
It seemed that the major concern amongst many of the voters was that of Brexit negotiations and making sure Britain received a beneficial deal, shortly followed by that of the circumstances surrounding the NHS.
One voter, Carol, explained that she had voted in the previous election, although in the time since, due to everything that has occurred, has had a change of viewpoint and vote. This was met similarly by that of Tristan, another voter early this morning who said: "I suppose getting older I read a lot more rather than just voting for one or the other I read a lot more about who I vote for, I feel a lot more informed."
However, this view wasn't shared by everyone. Arno explained he hadn't changed who he voted for, saying: "Every party goes through rough and smooth, it's just one of those things."
Voting closes at 2200 BST tonight, with the counting process going on into the early hours of the morning. Truro and Falmouth constituency votes will be sent to the Carn Brea Leisure Centre near Redruth with the results of the count expected to be released at around 0630 BST.
However, by this time, the United Kingdom, as well as Theresa May, may already have found out whether her attempt to increase her parliamentary majority has worked.