By Joseph Macey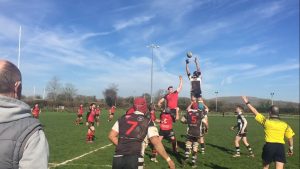 After results went their way the previous week, Falmouth cemented their promotion from the Cornwall and Devon league with a resounding 67-14 away victory over Tavistock.
Despite a red card to front row Anthony Geach mid-way through the first half The Eagles rallied round and scored a series of superb tries to come away with the win.
Head Coach Graham Whitmore was delighted with the teams efforts: "We had a slow start but we gradually got back into the game. We had a good middle period where we put the game to bed. We suffered a little bit with the red card but came back strongly at the end. A lot to be pleased with.
"All we are thinking about is the next three games. There is an expectation on how we perform and we are determined to see that through."
Falmouth started on the front foot and after a strong run by fly half Justyn Irons full back Thomas Edmonds found space to collect the pass and open the scoring. Irons with the conversion. 7-0.
Tavistock hit back and after extended pressure they scored their first try through Andrew Schuttkacker. Mark Webber with the conversion. 7-7.
A boggy surface made for some scrappy rugby with both teams finding it difficult in the early stages. However, it was Falmouth who took the lead. Irons playing the ball to David Jones who darted through the Tavistock defence to dive under the posts. 14-7.
After a difficult start Falmouth started to find their feet and it was Jones again causing problems, this time laying off a pass to Edmonds to score another try. Irons converted. 21-7.
A yellow card for prop Carl Parsons heaped more pressure on Tavistock and Falmouth extended their lead through flanker Seb Firth. 26-7.
The red card looked to have given Tavistock a way back into the game. But it wasn't to be and Falmouth pressured on by scoring a try just before half time through scrum half Tom Spiller. 31-7.
The Eagles picked up where they left off after the break and two early tries put them out of sight. Forward Tom Simmons was first to get on the scoresheet followed by Firth for his second try. A conversion from Irons made it 43-7.
Even with a man less Falmouth looked in complete control and Firth scored another try for his hat trick. Irons converted. 48-7.
With 10 minutes left of the game Falmouth were still searching for more points and winger Dan Hubble got amongst the scorers followed by a try from flanker Hugo Page. Conversion from Irons. 60-7.
A consolation try from Andrew Schuttkacker provided a bright moment for Tavistock. Conversion by Mark Webber. 60-14.