For the 2017/18 season, Truro City have announced a potential ground share agreement with Bodmin Town FC.
Truro's current stadium, Treyew Road, will not be available next season after being sold to developers and the delays on the planned new stadium at Silver Bow have meant the club has had to make the decision to play at Bodmin's Priory Park.
As part of the initial agreement, Truro will improve the facilities at Priory Park, upgrading the current grade of the stadium from a G to a B to accommodate national league south football requirements.
 Bodmin's Priory Park
For any stadium to achieve a B grade clubs must ensure that the pitch is viewable from at least three sides of the pitch, the stadium must be able to hold 4,000 fans, the pitch must be enclosed by a permanent boundary and must prevent people outside of the stadium from viewing the pitch.
The clubhouse needs to be able to accommodate spectators as well as match officials and dugouts for managers must be able to cover at least 11 members of staff.
Floodlights will need to be improved in quality to at least 180 on a lux reading, the stadium must have at least 6 turnstile entrances and a public announcement system must be put in place.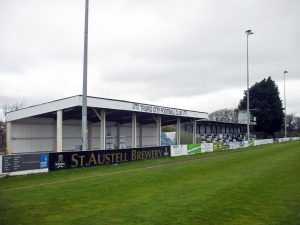 Truro will be leaving Treyew Road at the end of this season
It is not known which of these facilities Truro will finance but an upcoming press conference about the move will give more detail regarding the ground share.
The White Tigers are currently sitting one place above the relegation zone in the National League South, level 6 on the football league pyramid, and cancelled their original plan of sharing with Torquay FC earlier this year.
Bodmin are firmly in the race for promotion this season from the South West Peninsula League, level 10 on the football league pyramid. Their stadium has a capacity of 5,000, 1,200 more than Truro's.
Due to the upcoming press conference, neither team has been able to give a comment but it has been announced that, bar any delays, improvements to Priory Park will commence in the close season.