What happens when something as disastrous as Cyclone Idai hits a small, poverty-stricken and corrupt nation that simply cannot afford to deal with its consequences? A struggling economy and disastrous political landscape has created a mountain of issues for the South-Eastern African country of Malawi, and like many third world countries, Malawi has become somewhat dependent on the assistance of International Aid in the event of natural disasters. 
Yet some international organisations have expressed concern over getting too involved in Malawi, due to corruption levels and the spending of donated funds. Huge overhead costs are also often associated with any kind of donated money as it comes directly into the country, resulting in slower levels of response from Aid charities. Consequently, the work of local organisations and NGO's has been hugely instrumental in the aftermath of the tropical storm. 
Truthfal spoke to Blantyre resident and owner of La Caverna Art Gallery, Lois McCallum Losacco, about her work alongside local relief organisations following the devastation Cyclone Idai left behind. Together, they are fighting to lessen the damage of the next inevitable state of emergency. 
Losacco explains her reasoning for getting invloved in helping get rural communities back on their feet: "In 2015, we had severe weather patterns and a lot of flooding. I've been here for 30 years through two famines and civil unrest. In 2015, I was very active with rotary in responding quickly to the needs of the community around us.
"Now we fast forward to 2019 and Cyclone Idai. We had heavy, heavy rains here, which were quite catastrophic, and the one thing I realised straight away is that the water systems and fresh water was compromised almost immediately, leaving no safe drinking water. There was no way [for people to solve this], no product on the market for people to buy to get clean drinking water."
After searching all across Blantyre, the commercial capital, and using her contacts to check in other parts of the country, Losacco was met with low supplies and highly inflated prices.
"I went from store to store to store to try to get the Wafeguard (water purifier). The first place that had it were inflating the price by 300%. There are huge issues, items that should be sold in Kwacha are now priced in dollars, prices are being inflated.I know what Waterguard should cost, and I can argue and say you've artificially inflating prices. But as always, the government are capitalising off of other peoples distress.
"Nowhere had anything and the large NGO's were saying boil your water for three minutes. Now there's no firewood, nothing is dry and so that instruction to boil water when firewood is so scarce, and people are barely able to cook nsima (a traditional Malawian dish, a type of cornmeal porridge) is stupid." Losacco explains. 
"So I went around to source whatever I could, wherever I could. I sent a shoutout to friends of La Caverna to start bringing in money. We came up with this hitlist which is what the blue bucket consists of. Inside the blue bucket is the product called Waterguard, which one capful in that 25litre bucket under 30 minutes renders almost anything safe for drinking. And so also inside that bucket there is a variety of items, which is basically just a message of 'hang in there, theres more help on its way"
"Inside the buckets, we have supplied 5 metres of plastic sheeting, 5m of rope, we include Nkuni Phala (a Malawian porridge brand), rice and beans because they offer a complete protein. We put a nutritional supplement in there, we put a fortified peanut butter because protein is scarce, even if you get enough to eat, their diets are nutrient poor, so we put in baobab powder which is a natural super vitamin.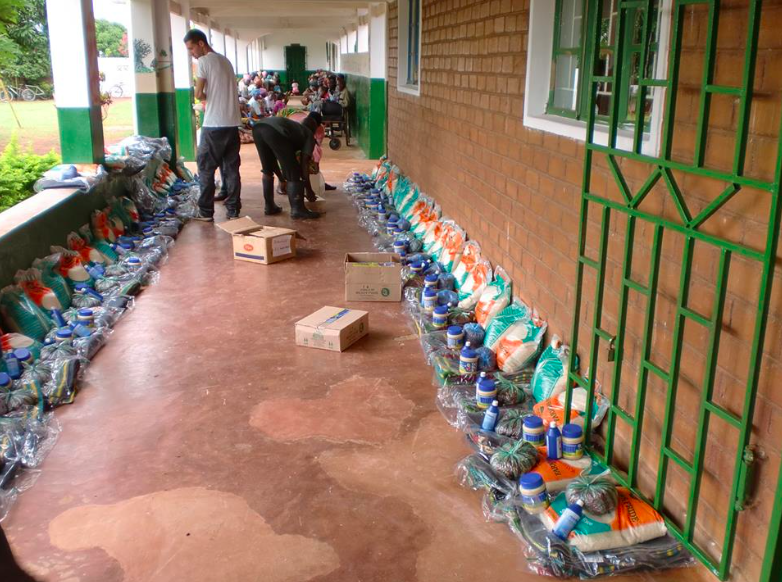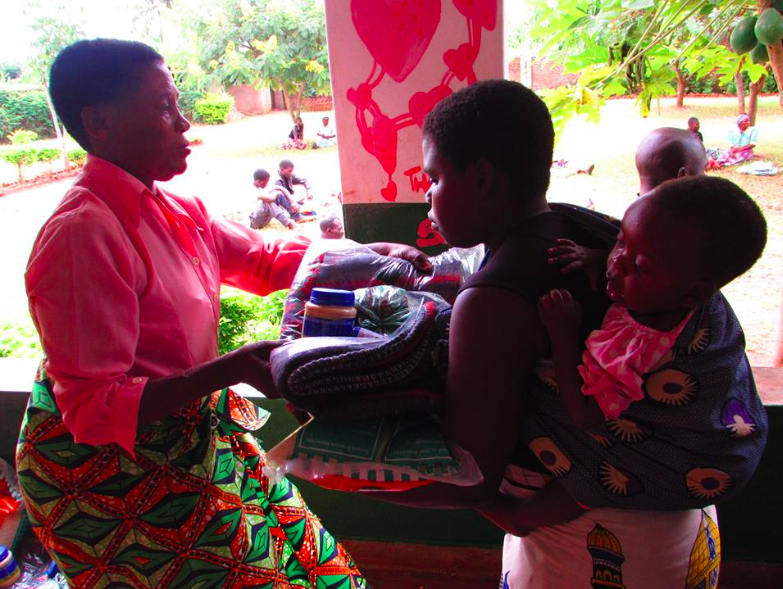 "We put in soap, candles and matches. We put in a clothing package, so rather than just one shirt, we have supplied trousers, a pair of shoes, for ladies a skirt, underpants and bra, a complete outfit. Because if you lost everything, just giving someone a shirt doesn't really address the whole issue, so we try to deal with dignity as well"  
"In four days I had collected enough money to do hundreds of bucket. We had them in and had them out, within four days, and that was before anyone else was on the ground running. And the reason we were so successful is because I called organisations that I know were working in the affected areas for more than 20 years" Told Losacco.
"It has been shocking. Historically we all know about Hurricane Katrina, the damage and the size of what happened in Mozambique was as big as Hurricane Katrina. If you think about it too much you just want to run away, you just want to turn tail and run"
Losacco explains that their work extends beyond aid for the immediate impact: "The other thing we're doing is community tool kits. So there are organisations that are providing bricks and roof sheets, but they are forgetting you need a hammer, saw and nails to put together a house. So we are helping with that, so once people have been fed enough and are strong enough again, then these people will have the right tools and enough people allocated to rebuild and get their homes back."
"We're also reserving funds for kids in tertiary education. So for university students we've got funds available to make sure their tuition is paid so that they can help rebuild homes and lives in their villages. Its not just about surviving, but thriving"
Lois McCallum Losacco has lived in Malawi for nearly 30 years, after leaving her native Canada, now calling Blantyre, Malawi home. 
Losacco's extensive knowledge and familiarity of this part of Malawi allowed for fast progress to be made. Losacco moved to Malawi in 1990, volunteering in Luchenza as a teacher. From there, she moved to Mangochi, doing the same for a year, and then working as an Environmental Education Officer for another 2 years. Much of this time was spent within the Lower Shire, one of the areas worst hit by Cyclone Idai.  Following this, Losacco spent another 5 or 6 years as an active Rotarian in the surrounding area. She now lives in Blantyre, the second biggest city in Malawi, where she owns La Caverna Art Gallery, at its core a social enterprise, with husband Georgio Losacco. 
"If I was going to think about myself, I would have stayed in Canada, but I didn't because I wanted to make a difference here, in a corporate, capitalistic way. We employ people, we pay taxes and we support artists around us."
Stories of corruption in Africa are commonplace, and with the scandals such as Cashgate, the widespread theft of public money thought to be in the region of $32million, happening as recently as 2013, public trust is at an all-time low. Coupled with this, Lilongwe, the capital of Malawi, experienced little to no impact of Cyclone Idai, allowing for attention to be reverted to the campaigning of the upcoming general elections. Losacco is wary of how the country is going to progress from here.
"This situation is going to get worse, a lot worse. All the government spending stopped three months ago and all those funds were diverted to campaigning for the election in May. The government is not responding as it should be, and the government is so corrupt. Everyone is so worried about who they should give their money to."
Deep-rooted and sustainable changes must be made, yet this has to come from the government, I argue. I receive a passionate response.
"It won't. It will not happen."
With Cyclone Kenneth hitting Mozambique and continuing its slow, yet vicious movement west and potentially towards Malawi, the worst may still be yet to come. The message being sent out is one of hope and perseverance, as the quiet, tireless work of thousands continues on.