It was thought that Ferrari would achieve great things in 2017. The year marked their 70th anniversary and with new regulations for the season it looked as though the team could finally end their 10 year championship drought.
The Constructor Championship could be decided as early as 22nd October, over a month before the final race, and it looks set to go to the three time World Champions Mercedes, but with an all star driver line up, a competitve engine and one of the best chassis in the field Ferrari had all the components to win, so what has gone wrong?
Ferrari started the season strongly, winning the Australian Grand Prix and alternating with Mercedes for the next six races. It was then that Ferrari lost its hold over the Constructor Championship.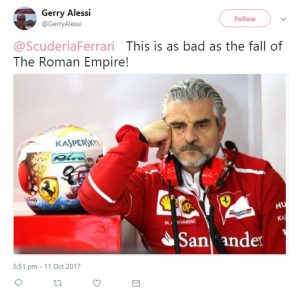 Ferrari would have to wait another four races until they saw their number one driver Sebastian Vettel on the top step of the podium again and unfortunatley for Ferrari that was the last time they lead the 2017 championship.
After the Monaco Grand Prix it was a downward spiral for the once great team, since then they have only won one race and by that point their point defecit to Mercedes was so high they barely scratched the surface in returning to the lead.
So what is the key to Ferrari's downfall? It lies in reliability and crashes.
Ferrari have had various reliabilty issues throughout the year, most recently it was revealed that a £52 spark plug caused Vettel's retirement in Japan which ultimatley gave Mercedes a 145 point lead. To put that into perspective Ferrari's budget for their cars is £350 million.
All teams suffer from reliabilty issues, it's part and parcel of Formula 1 but when a team as proficient as Ferrari is brought down by a spark plug questions need to be raised.
When the news of the spark plug was released Ferrari fans were livid, quite rightly so, it seems impossible that a team who were in such tight contention for their 16th Constructor Championship have ended up playing catch up to a team that only holds three.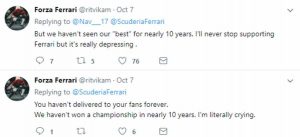 Crashes. Crashes are a big part of Formula 1 and with that team orders. When a team is in with a chance of a championship "team orders" is a term which is quite frequently raised and perhaps with only four races left in the season it's about time Ferrari used them.
The ultimate turning point of the 2017 season for Ferrari was at the Singapore Grand Prix. This was the Grand Prix where Ferrari had every chance to truly close the gap between themselves and Mercedes.
They started the race in P1 and P3 with the Red Bull of Max Verstappen in P2, as the lights went green the two Ferrari's had a good start and lined up each side of Verstappen, just 200 metres later the Ferrari's caused a collision which took both of them, Verstappen and Alonso out.
This carelessness from the drivers isn't something that should be happening 14 races into the season and Ferrari should be thinking seriously about how they're going to control the drivers in their 2018 season.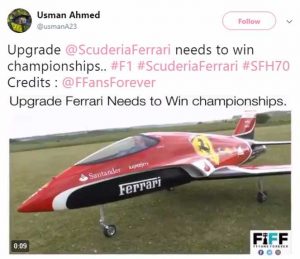 So, do Ferrari stand a chance of pulling it back this season? Quite simply put, no. They would need Lady Luck herself on their side. If they came first and second in the final four races and Mercedes failed to finish they would win by a mere 27 points but the likely hood of that is very slim.
In short, Ferrari are a long way from a return to their glory days and if their woes of this year stay with them the chance of a 16th Constructor Championship next year is nigh on impossible.