Over the next couple months, the festivities in our beautiful little town of Falmouth are rife, with an array of events that include Falmouth's famous annual Oyster Festival, a Future Funk and French House night at Mono and a collection of events that aim to showcase the local creatives here in Falmouth.
Future Funk – French House & Space Disco – (Oct 14th 10pm-2am @ Mono)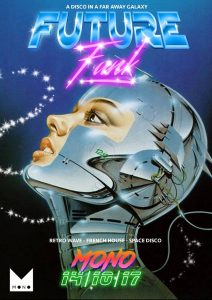 Future Funk is bringing you a jam-packed night of 80's retro vibes, French house and space disco all on Oct 14th at 10pm, Mono, Falmouth.
The night will feature live DJ sets from DJ Cosmonaut plus live video coverage and editing by VJ Elkingtit.
Falmouth Oyster Festival – (Oct 12th-15th @ Falmouth Event Square)
It's that time of the year that we've all been waiting for, as the Falmouth's event square will once again be hosting Cornwall's biggest and most loved specialist food festivities; Falmouth Oyster Festival. The event hosted by Skinner's Brewery and St Michael's Hotel and Spa will be held on Thursday 12th and will run through to Sunday 15th.
The much awaited annual festivities celebrate the start of Cornwall's Oyster dredging season, the native Falmouth oyster and most of all the diversity of Cornish seafood. The festival will cater for four days of feasting, cooking demos, and live music, food and craft stools.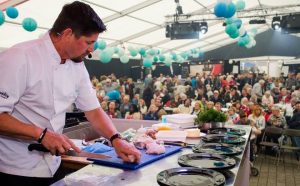 "The oyster festival is a key event in the calendar of Falmouth, as well as a wonderful celebration of the great tradition of oyster dredging in Falmouth," said Steve Skinner, founder and director of Skinner's Brewery. "We're thrilled to be at the festival once again, supporting this wonderful event by offering a fine Cornish pint to those attending over the weekend.
"It's one of the events we most look forward to in the Cornish calendar. I'll be behind the bar during the weekend, and look forward to seeing everyone there."
Top chefs will be there to offer daily cooking demonstrations, inspiring festival-goers to get involved and indulge in the tastes of native oysters, wines, real ales and local produce.
The festival will include live music, arts and crafts, wines, ales, bars, seafood bars, Working boat race, The Grand Oyster Parade, a shucking competition, a grand oyster draw and most of all; oysters as far as the eye can sea.
Slicker than Rick – (Oct 18th 9:30pm-2am @ Cribbs café/bar)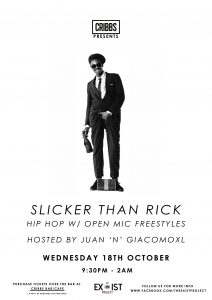 The Ex-ist Project is holding its fourth annual episode of Slicker than Rick, Falmouth's famous hip-hop night, with an array of MC's accompanied with an open mic session to encourage local artists to jump up on stage and get involved.
Tickets are £3 through any Ex-ist Project member or can also be bought over the bar at Cribbs café/bar on the moor.
Mind Garden X PTCHWRK Present ART: An Open Creative Event – FSF Partnership – (Nov 4th 12pm-2am @ Jacob's Ladder Inn)

This exciting open art event aims to unite the current creatives of Cornwall using a variety of artistic practices through the collaboration of a cluster of local collectives that include: Mind Garden, PTCHWRK, The Ex-ist Project, FSF, Skate Falmouth, Splendid Eye Torture, Kernow Uncovered and The House of Bean.
Mind Garden and PTCHWRK have donated 2.5m2 of blank cotton canvas pieces for all the come along and get creative. And that's not all! MG Snow have donated snowboards and surfboards for all to design on, giving the local creatives of Cornwall a platform to showcase they talents and passion for art.
All this will be tied together with a raffle giveaway, a BBQ donated by The Ex-ist Project, and a skate exhibition that will include a host of skate movies provided by Splendid Eye Torture – with talks of a potential mini skate ramp out front of Jacobs Ladder.
There will be a variety of art exhibited around the venue and an array of Falmouth's own unplugged acts.
The line-up includes:
Paul Kelly
Milo Gore
GPT Prang B2B Bobby Funk
School Disco
The Brass Monkeys
Billy Fraser
And many more.