The British Universities and Colleges Sport (BUCS) Surfing Championships again return to Fistral Beach, Newquay this weekend to see competitors from a range of universities contend for the title of best Male, Female and Team.
Today's surfing conditions aren't looking too favourable due to a strong SW wind switching between cross and onshore throughout the day. However, the rest of the weekend is shaping up nicely with Saturday seeing some five to eight foot clean waves, and Sunday slightly smaller but with offshore winds still grooming the surf.
Falmouth and Exeter Students' Union (FXU) has 27 entries into the competition ready to battle it out on the waves in the idyllic UK surf capital. A spokesperson for Fal Surf (the FXU society responsible for organising competitors) said: "Fal Surf thinks that our team will fair very well this year. We have a large amount of our members competing, and an even larger number of members coming to support us on one of our local beaches."
The schedule for the day includes registration at 08:00, then the Men's Round One commencing at 09:00. The Women's Round One and Men's Round Two are also on standby between 09:00 – 16:00. The Men's Round One consists of 50 heats with four or five competitors in each. The Women's will see 20 heats of four or five competitors at a time.
BUCS state that surfers are judged on performing radical controlled manoeuvres in the most critical sections of a wave with speed, power and flow to maximise scoring potential. Innovative and progressive surfing as well as variety of repertoire (manoeuvres) will be taken into consideration when awarding points for waves ridden.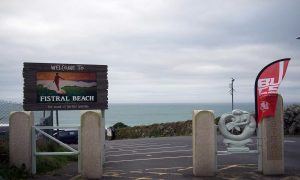 BUCS plays host to 333 (239 male and 94 female) entries this year from universities across the country. This makes it the largest senior surf competition in Europe based on the number of athletes competing.
2015's men's champion and last year's silver medalist Matt Chapman has travelled a short distance from Falmouth to attempt to regain his overall crown. He currently has the highest score in any heat today. Last year's champion Flora Lawton has travelled from Bristol hoping to again assert her dominance in the women's open.
Last year the prevalent talent of FXU students in the Men's Open gained successful results for Joseph Prow (1st), Matthew Chapman (2nd) and Theo Cherques (4th), however there was no one to represent the FXU for the women's final. This year is however looking more optimistic with strong competitors entered into this category too.
Truthfal catch up with Adam and Cam representing FXU at BUCS
The BUCS Surfing Championships started in 2004 and have been running annually in Newquay ever since. FXU entries usually perform well throughout the competition, due to the university's plethora of talented surfers, and its location in the same county as some of the UK's best waves. The 2008 competition even saw notable FXU entry from the now multiple Brit Award winning Ben Howard.
The weather is windy but the sun is breaking through the clouds and shimmering on the Atlantic waves. The surf conditions are meant to be improving by tomorrow, and there's a fantastic weekend of surfing ahead in Newquay.