South West Conservative backbenchers are welcoming Chancellor, Philip Hammond's latest budget announcement.
He announced that the first budget changes of the spring would see increases in national insurance contributions (NICs) for the self-employed.
Conservative backbenchers in the South West believe the changes may help resolve the current funding crisis in social care across the UK.
It is thought that the changes in budget could generate an additional £3 billion to social care over the next 3 years, with £1 billion of that available in the next financial year.
Photo Source: ALAMY
This would create much needed money for NHS treatment across the country and adult social care services that support vulnerable people in Cornwall.
In an article published by the North Cornwall Liberal Democrats, the Care Quality Commission cited rising demands and economic pressures in their March review of NHS trusts.
The review found that of all 136 hospital trusts investigated, 11 per cent were inadequate on safety and an additional 70 per cent required improvement.
Hospital chief inspector Professor Sir Mike Richards said:
"The scale of the challenge that hospitals are now facing is unprecedented – rising demand coupled with economic pressures are creating difficult-to-manage situations that are putting patient care at risk".
In a statement made in Parliament earlier this week, Hammond expressed that the changes in budget would contribute to resolving these issues.
"Historically, the differences in NICs between those in employment and the self-employed reflected differences in state pensions and contributory welfare benefits. But with the introduction of the new state pension, these differences have been very substantially reduced."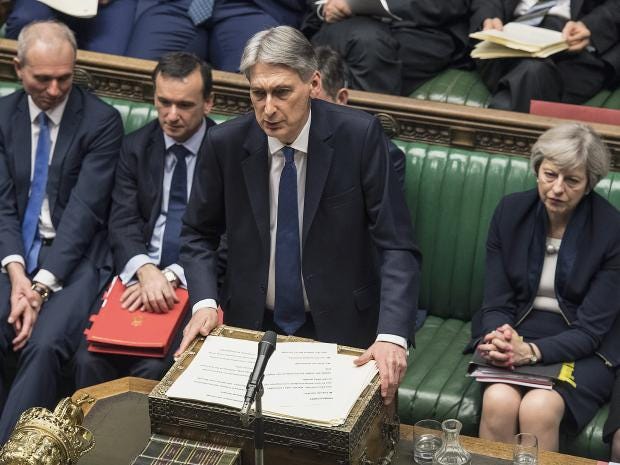 Chancellor of the Exchequer, Philip Hammond
The announcement comes as a shock to many Conservative MPs because the amendments are seen to break a Conservative manifesto pledge from 2015. The pledge committed the government to no increases in VAT, income tax or national insurance.
Nationally an employee earning £32,000 a year currently faces a national insurance bill of £6,170 along with their employer, while the bill for a self-employed person, earning the same salary, would be £2,300. The new rates are still lower than for employees who pay NI at 12% on the same income levels, while both groups will continue to pay at 2% on income above the higher rate threshold.