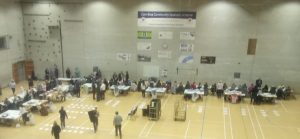 By Jonathan Staten
West Cornwall's Conservative MPs were returned to Westminster on Friday morning following the UK general election.
The result, announced at Carn Brea Leisure Centre in Redruth, saw Sarah Newton (Truro and Falmouth), George Eustice (Camborne and Redruth) and Derek Thomas (St Ives) all returned to Westminster but they all had their majorities slashed by both Labour and the Liberal Democrats.
Speaking of the result, in which he narrowly beat Labour candidate Graham Winter by 1577 votes, George Eustice said: "It's an unusual night. I'm very glad we increased our number of votes but at the same time, I'm disappointed to see our majority shrink."
The results came after a long night for the Conservatives who lost their majority in the House of Commons.
Throughout the night, Conservative candidates at Carn Brea Leisure Centre looked visibly worried as results came in from across the UK and rumours on the counting floor only managed to worsen those fears.
But once George Eustice's victory was announced at 4:45am, Cornish Conservatives' anxieties were rightly alleviated with Sarah Newton and Derek Thomas winning later that morning.
At time of writing however, it is unsure what kind of Westminster the Conservatives will be returning to. With Theresa May posing a coalition with Northern Ireland's Democratic Unionist Party, it is clear that the 57th Parliament will be unlike any we've seen before.