Basing your work from the beach may be something many consider, but very few actually do.
Cosmic is a Cornwall based artist, and for him the beach is his studio.
Although most days you can find him painting on Porthtowan beach, there is no set place from which his work is produced.
A long wheel based Mercedes Sprinter van doubles up as both his home and studio, letting him travel the county painting where and when he pleases.
"I base everything I can from the van rather than have a studio to work from. The beauty of it is that everything is where I need it to be."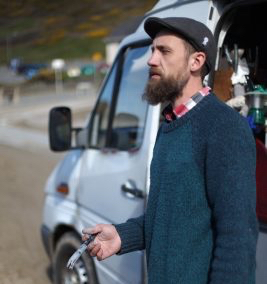 Whilst the van allows Cosmic to have everything in one place, it also gives unrestricted access to the land and seascapes around him.
"For me it's not just about making paintings and getting paid for it, it's about making something about what is going on around me at that time," Cosmic said.
"It's real life happening right in front of you and you've got to do something to capture it."
Having originally started as a street artist that used spray paints, the dynamic way he paints has carried through to the new way in which he creates his work.
If it starts to look too "Bob Ross like", a throw of colours across the canvas quickly bring the painting back.
Whilst graffiti is based entirely from preconceived ideas, the paintings with brushes and acrylic paints capture a moment of his reality.
"I want to be in a place like I was with the graffiti where I don't really think about it. You've got colours and shapes and you get into the zone where your choices aren't that conscious."
"If I'm painting a sunset, the sun's going, but when I started there was a blue sky, so the whole sunset is in that painting."
As Cosmic's work is painting from life, his subject is constantly moving and changing, leaving him to adapt to what is happening around him.
"It's all changing and passing, so you are just chasing the painting. After the sunset it's colder, darker, everything is finished and I stop.
"Life is too short so I just want to keep painting, I'd love to know where this is going but I'm not in a hurry to find out."
The music for both videos was created by Palmbeats.